As the labor market becomes increasingly competitive and the modern workforce continues to evolve, businesses are turning to AI recruitment tools and AI recruitment software for help. AI-powered recruitment solutions are becoming more and more common among employers and job seekers, as they can help to pinpoint the perfect applicant quickly and accurately for a position. However, it can be tough to pick which AI recruitment software is right for you in the face of so many options. In this blog post, we will be looking at the 9 best AI recruitment tools available today including Turing, Arya, HireEZ, Seekout, Findem, TurboHire, Manatal, Fetcher, and Humanly.
We'll review each AI recruitment software in detail; discussing what each tool is best for, key features offered by each platform, pros and cons, as well as their plans and pricing, helping you make an informed decision about which software would work best for you. So if you're looking for an effective way to find top talent utilizing the best AI recruitment tools then read on.
What are the Best AI Recruitment Tools?
Turing – Best AI Recruitment Tools for Sourcing Developers
Turing is one of the best AI Recruitment tools. It is a comprehensive AI-based recruitment platform designed to help recruiters, hiring managers and recruiting teams source the best remote engineers, software developers and tech leads for AI, cloud, and application engineering services. Turing's Talent Cloud platform powered by AI will help you to streamline your talent acquisition process, matching you with deeply-vetted, remote developers.
Turing's user friendly platform can quickly match clients with the right developer for you to provide solutions for complex business problems. Whether you need individual talent, dedicated teams, or comprehensive technology services, Turing's platform can assist you. It offers an array of tools such as AI chatbots, candidate sourcing services, automated scheduling interviews and more that make it easier for them to find qualified candidates in no time.
Watch the video below to see how Turing works.
Key Features
Touring's Talent Cloud platform utilizes global sourcing, intelligent vetting, extensive matching, payment compliance, and automated on-the-job quality control to provide an optimal experience.
AI-driven tools which allow users to source potential candidates from various sources like job boards, social media networks and other professional sites.
Creates a talent pipeline by tracking the data related to each applicant so that recruiters can easily identify qualified candidates.
Provides an Applicant Tracking System (ATS) which allows recruiters to track applicants throughout the entire recruitment process with ease.
What I like
Turing has access to more than 2 Million developers, from 150 countries, covering 15+ job types, 100+ Technologies and 7+ Seniority levels
100% risk free two week trial
Touring's platform works with speed. It takes only 4 days to fill most roles, and some roles are filled the same day!
Touring's platform is a timesaver. 50+ hours of engineering team time is saved per developer on interviewing!
Touring has an excellent retention rate! In fact, they have a 97% engagement success rate.
Turing's ability to automate mundane tasks like scheduling interviews or sending out emails so that recruiters can focus on finding quality candidates instead.
It helps reduce manual errors while improving efficiency as well as accuracy during the recruitment process.
Turing provides detailed reports about candidate activity and performance so that users can make informed decisions when hiring new employees or managing existing ones.
What I dislike
While Turing provides good value for money, they do not have a clear pricing structure, as the price depends on your specific needs. You will have to go through the hiring process to get a clearer estimate.
Those with little or no prior knowledge about Artificial Intelligence may find the platform difficult to get accustomed to at first.
Final Summary
Turing is an AI-based recruitment technology that expedites the process of finding appropriate developers for employers in a streamlined way.
With its advanced algorithms, Arya promises to take this process one step further by providing predictive insights into candidate behavior and preferences.
Arya – Best AI Recruitment Tools Overall
Arya is the best overall in the competitive field of best AI recruitment tools. Arya is an AI-driven recruitment platform that helps recruiters and hiring managers find qualified candidates quickly. Arya harnesses the power of AI to automate recruiting, freeing recruiters up to build relationships with prospective employees rather than manually searching for them.
Whether you're a large company or a small business, Arya's got your back! They cater to everyone, from the high rollers with a sky-high hiring volume to the penny pinchers who only hire once in a blue moon. They also cater to all industries and businesses types. Their enterprise-grade solutions are top-notch for the big guns, while their on-demand solutions are perfect for those who like to take it slow and steady. So, why settle for anything less when Arya can meet all your hiring needs with ease?
Watch the video below see how Arya by Leoforce uses AI for recruiting across all industries and businesses types.
Key Features
Arya's powerful search engine provides users with access to 850 million candidate profiles and millions of resumes from job seekers across the world, enabling them to source and connect with talent faster than ever before.
The platform also offers a range of tools for scheduling interviews, managing candidate data, and creating custom reports so that recruiters can easily track their progress in filling open positions.
What I like
Arya offers a comprehensive suite of resources to support recruiters in their quest for the ideal personnel
Features powerful filters that can be employed to search through huge numbers of resumes based on proficiency, expertise, educational background and other factors.
Provides automated messaging, which allows you to reach out in mass
AI chatbots provide quick-fire answers so you can keep communication running smoothly.
Customizable dashboards allow you to track key recruitment performance metrics such as applicant flow rate or number of hires made over time without breaking a sweat.
Arya provides seamless integration into popular ATSs like Greenhouse or Lever, keeping your data up-to-date across platforms – making it an absolute no-brainer for any professional looking for hassle-free recruitment.
What I dislike
Implementation or compatibility issues with existing systems could arise and prove troublesome.
The cost of the software may be too high for smaller businesses
Plans and Pricing
Arya by Leoforce offer four different plans tailored towards companies ranging from small businesses to enterprise-level organizations:
All plans provide access to more than 850 million candidate profiles, come equipped with unlimited searches and automated messages, and more.
Ultimately, choosing a plan should depend on how much automation you need in order to run your recruitment processes efficiently, yet cost-effectively.
Final Summary
Arya is a powerful AI-based recruitment tool that can help you identify the right candidates quickly and accurately. Overall, this AI-driven recruitment platform is an obvious choice for quickly locating excellent candidates.
HireEZ – Best for End-to-end Outbound Recruiting
HirEZ is one of the best AI Recruitment tools on the market. HireEZ offers an intuitive platform for recruiters to quickly find qualified candidates who are best suited for their open positions. Their comprehensive hiring platform is designed to simplify the recruitment process for employers. It provides an intuitive user interface that allows companies to quickly post job openings, source and screen candidates, conduct interviews, and make offers.
HireEZ's end-to-end Outbound Recruiting Platform helps you to efficiently find, connect with, and build relationships with top-tier candidates. Their system seamlessly integrates with your enterprise tech stack, providing a consolidated and streamlined approach to your hiring process. The result is a smarter, more efficient recruitment strategy that saves time and resources while delivering the best talent to your team. You can truly say goodbye to tedious recruiting tasks and hello to your dream team!
Watch the video below to learn more about hireEZ's comprehensive outbound recruiting platform.
Key Features
Automated background checks, online assessments, and automated onboarding
HireEZ simplifies the recruitment process, allowing employers to rapidly identify suitable applicants without having to invest time in perusing resumes or lengthy phone conversations.
Capable of rapidly linking job postings with the ideal candidates based on their qualifications and background.
Users can be instantly alerted when there are job openings that fit their particular qualifications and preferences, as the system is configured to do so.
Users can easily filter out unsuitable applicants by using keywords or other criteria they deem important during the screening process.
Users can search across 800M+ candidate profiles and engage the right talent with 87% contact-finding rate
Users can access candidates from 45+ open web platforms and find the right talent with 80% qualify rate
30+ ATS Integrations for seamless workflow
Sourcing talent with 290+ programming languages
What I like
HireEZ's filters save the user time by ensuring only relevant applications are considered before advancing them further down the pipeline toward hireability assessment stage.
HireEZ offers users a simplified experience, lowering the expenses associated with conventional recruiting procedures.
It offers access to a wide array of applicant data such as resumes, references, and test scores which enables employers to make informed decisions when considering who they should interview and eventually hire into their organization.
All collected information is kept secure, thus minimizing any risks related to potential breaches in security protocols caused by manual processes involving paper documentation/files shared between departments or externally amongst third parties involved in hiring activities (e.g., Recruitment Agencies).
What I dislike
Potential incompatibilities between certain versions and operating systems could deter organisations from utilising this solution if their existing IT infrastructure is not suitable.
There may be issues if too much reliance is placed on automation during the recruitment process as human judgment and intervention are necessary when assessing the suitability and cultural fit before extending an offer – something that technology alone cannot accurately determine; thus why a hybrid approach combining both technological solutions and human interaction is best practice when recruiting talent into an organisation going forward.
Plans and Pricing
HireEZ provides a pricing model based on pay per user, whereby charges are incurred for each individual who is granted access to the software. The pricing packages offered by hireEZ vary in terms of features and limitations based on the selected payment amount.
The plans and pricing range from FREE to $199 per user per month or more. The Enterprise Plan may cost more and will be tailored to your recruiting needs.
HireEZ also offer free trial.
All packages come with a 24/7 customer support team at hand ready to assist with troubleshooting any issues that may arise while using the service, along with detailed reporting metrics to help measure Return On Investment (ROI) and improve future campaigns for further optimisation of workflow efficiency going forward.
Final Summary
HireEZ is an AI-powered recruitment tool that helps employers to quickly and accurately identify top talent. It offers advanced features such as job posting optimization, candidate screening automation, and real-time analytics for improved decision making.
Overall, HireEZ is a great option for those seeking a modern and efficient way to manage the entire recruitment life cycle without sacrificing quality hires in the end result. It offers competitive prices and flexible payment options to boot.
Now let's take a look at Seekout – another leading AI recruitment platform designed to help recruiters find the best candidates faster than ever before.
Seekout – Best for Growing / Retaining Talent and Finding New Talent
SeekOut is one of best AI recruitment tools and one that I am increadibly impressed with. I love their concept. SeekOut offers a comprehensive solution for your talent management needs. Unlike most talent platforms that address only a single aspect of the talent lifecycle, SeekOut consolidates talent acquisition, talent management, and talent analytics into a single unified platform. With this approach, you can optimize your ROI by streamlining your talent strategy and leveraging a holistic approach that covers both internal and external talent.
Accessing comprehensive insights about your people is crucial for informed decision-making, but talent data is often dispersed across disparate systems. SeekOut simplifies the process by automatically extracting data from both internal and external sources, eliminating the need for manual data entry. By leveraging these data-driven insights, you can better understand your workforce, identify opportunities for reskilling and redeployment, and prioritize recruiting efforts to achieve your business goals.
Seekout is a technology-enabled talent acquisition platform that uses Artificial Intelligence to aid recruiters and employers in locating the right applicants for their job openings. It provides a comprehensive suite of tools to identify, evaluate and interact with potential hires quickly and effectively.
Watch the video below to learn about Seekout's holistic approach to finding, hiring, growing and keeping internal and external talent.
Artificial intelligence (AI) should be used to support human decision-making, rather than replace it. This is where Seekout gets it right. Their AI-powered platform places human experience at the forefront, using AI to enhance efficiency and provide valuable insights. They prioritize AI compliance to ensure that their platform reduces any bias in your HR and recruiting processes. By leveraging their human-centered AI approach, you can optimize your talent acquisition processes while promoting a fair and inclusive workplace.
SeekOut excels in identifying and sourcing specialized talent, with a focus on hard-to-find candidates. Their platform features dedicated pools for technical, healthcare, and cleared talent, enabling you to find the best-fit candidates quickly and easily. Additionally, they provide insights into the diversity of your talent pipeline, helping you to reduce unconscious bias and identify underrepresented candidates who may not have been visible through traditional recruitment channels. With SeekOut, you can expand your candidate pool and build a more inclusive workplace.
While skills are undoubtedly important, they only provide a limited view of a person's potential. SeekOut delivers a more complete picture of talent by leveraging comprehensive insights that include not just skills, but also capabilities, experience, and aspirations. With these insights, they help connect individuals with the opportunities that align with their unique strengths and interests. Additionally, SeekOut's self-service talent marketplace empowers employees to chart their own career paths and take ownership of their professional development. By unlocking the full potential of your workforce, you can drive business growth and create a culture of continuous learning and development.
Key Features
The platform uses advanced machine learning algorithms to scan millions of online profiles in seconds, giving employers access to a wide range of candidate data such as skills, experience, education level, location preferences, etc.
Users can create custom searches using its intuitive filters and save them for future use.
Cutting-edge capability of furnishing prompt intelligence about each candidate's aptitudes.
Employers can easily see which skills are most relevant for any given role by analyzing the resumes they have on file or searching through thousands of publicly available profiles from sites like LinkedIn or GitHub.
Businesses can now more accurately identify potential hires who possess the right skillset for their roles.
Detailed reports about each applicant's background are provided so that employers can make informed decisions about whether or not they would be suitable for a particular role within their organization.
By leveraging talent insights in SeekOut Grow, you can ensure that your organization is well-equipped to develop internal talent and plan for the future.
The platform enables you to assess retention risks and identify skill gaps, empowering you to create targeted development plans that benefit both your employees and your business.
Seekout's platform can surface top candidates for open positions, by analyzing an employee's skills and experience, allowing you to staff these roles quickly and efficiently.
It provides managers with comprehensive insights into their team's strengths and development areas, enabling them to facilitate productive career discussions and support their employees' professional growth.
SeekOut's database boasts over 800 million public profiles, enabling you to access a wealth of talent without requiring any manual entry from prospects or employees.
Its database includes over 330 million candidates from underrepresented backgrounds, helping you to increase diversity and inclusion within your talent pipelines.
The platform also includes a powerful bias reducer, which leverages AI to mitigate unconscious bias in your recruiting and HR processes.
SeekOut provides access to a unique talent pool with over 127 million profiles of hard-to-find talent such as developers, technical experts, cleared candidates, licensed nurses, and healthcare workers.
What I like
User-friendly interface
Comprehensive search capabilities
In many cases, your most promising candidates are already part of your workforce. SeekOut Grow can help you identify and redeploy internal talent into open roles by leveraging their advanced skill-matching algorithms.
Seekout's platform helps companies to maximize the potential of their existing talent and create a culture of internal mobility and growth.
SeekOut Grow's internal talent marketplace simplifies the process of finding new roles, short-term projects, and learning opportunities for your employees.
By providing personalized recommendations based on an employee's skills, experience, and aspirations, their platform enables individuals to explore new career paths within your organization.
SeekOut Grow recommends employees with similar career paths, fostering a culture of mentorship and collaboration.
By providing managers with clear visibility into their direct reports' skills, aspirations, and opportunities, SeekOut empowers them to become effective career coaches.
It creates a culture of continuous learning and development, resulting in more engaged and satisfied teams.
It helps you to tap into a diverse pool of talent and create a more equitable and inclusive workplace.
The platform provides accurate results due to AI technology
Quick turnaround time since manual screening processes are no longer necessary
Cost-effective pricing structure with payment only upon successful hire
Customer support is available via chatbot or email/phone call support teams.
What I dislike
The cost is quite high, although the platform is incredibly innovative in that it helps you to grow and retain the talent you have in your company and find the talent you need externally within one platform.
Plans and Pricing
SeekOut's pricing is like a covert agent – almost impossible to find online. But don't worry, it's not because they are trying to keep it a secret. They believe in personalized pricing strategies that are tailored to each company's unique needs. Their market and account-based pricing approach means that they work with you to find the perfect price point for your organization.
However, based on my research, testing and contacts with the company, this is a rough idea of the plans and what an average company might pay for each plan. SeekOut offers three plans to cater to the diverse needs of its users: Basic, Pro, and Enterprise.
Basic plan
$499+ per month
Includes essential features such as search capabilities, access to contact information, and a set amount of email credits.
Pro plan
$999+ per month
Builds on the Basic plan and offers more advanced features like Boolean search and advanced filtering to help users find the most qualified candidates.
Enterprise plan
$1999+ per month
Offers all the features of the Pro plan, plus more advanced features like predictive matching and a Dedicated Account Manager. This plan is designed to meet the needs of large organizations with custom recruiting needs, offering maximum flexibility and support.
Humanly – Best for candidate conversations and engagement
Humanly is one of best AI recruitment tools and is particularly good for candidate conversations and engagement. Humanly is an AI-driven recruitment platform that simplifies and streamlines the entire hiring process. It streamlines talent acquisition, from sourcing and screening to interviewing and onboarding. To address the challenges posed by high-volume hiring and retention, Humanly's automated chat interactions and AI-powered virtual interview analytics serve as a bridge to facilitate a seamless and effective recruitment process.
Humanly leverages powerful machine learning and natural language processing to quickly identify qualified candidates, automate mundane tasks, provide a better candidate experience, and ensure data accuracy throughout the process. With Humanly at your disposal, you'll have all the tools necessary to land those dream hires in no time flat.
Recruiting and HR chatbots offer an efficient solution to the time-consuming nature of recruitment processes. These automated interactions provide hiring teams with the ability to engage and converse with candidates at every stage, streamlining scheduling and saving a significant amount of time. By freeing up resources, recruiters can focus on identifying and attracting the most suitable candidates for the role. This technology is simple to use, personalized, and can be rapidly deployed, making it an attractive option for organizations seeking to optimize their recruitment processes.
Humanly's Interview Assistant offers a cutting-edge solution for high-volume hiring teams seeking to optimize their virtual interview processes. The Interview Assistant leverages AI-generated notes, candidate follow-up emails, and insightful interview analytics to provide recruiters with a comprehensive and efficient method for capturing and synthesizing interview data. This technology enables more equitable and effective hiring decisions, providing hiring teams with a level of interview sophistication that was previously unavailable. With Humanly's Interview Assistant, recruiters can improve their virtual interview processes, enhance candidate experience, and ultimately make better hiring decisions.
Key Features
AI chatbots or candidate sourcing services for easy source of potential applicants
Automates tedious tasks like scheduling interviews or collecting resumes, making recruiting faster and easier.
An intuitive applicant tracking system to track applicants
Real time analytics on recruitment data
Improved talent pipelines management through automation that reduces manual labor for recruiters
Simplifies complex workflows through the creation of automated workflows that integrate with ATS and HRIS systems, thereby enabling recruiters to log in to existing systems easily.
Enhances visibility by providing candidates with seamless access to initiate a conversation through various channels, such as a QR code, job board, or SMS.
Optimizes the hiring process by leveraging automated applicant workflows and dynamic knockout flows, reducing the time spent on manual tasks.
Streamlines the time-to-apply process through a fun and lightweight chat experience, making it more engaging and straightforward for candidates.
Automatically summarizes key interview points and generates easily digestible bullet points, making candidate evaluation and selection processes much easier.
AI-driven follow-up email service provides personalized introductions and integrates interview highlights into the email content, providing candidates with a personalized experience, while enabling recruiters to save valuable time.
Provides total visibility into the topics and communication behaviors interviewees demonstrate and struggle with through its scoring system.
What I like
Humanly's Recruiting/HR chatbots modernize candidate engagement and communication at every stage of the recruitment process.
Makes recruiting faster and easier by automating tedious tasks like scheduling interviews, collecting resumes and screening processes.
Uses advanced technology such as artificial intelligence (AI) and machine learning (ML), which results in recruiters and hiring managers saving valuable time, allowing them to concentrate on sourcing suitable applicants and strengthening candidate relationships.
Provides accurate results quickly, which helps make sure no qualified candidate slips through the cracks during recruitment processes.
Allows you to maintain communication with candidates who didn't score the highest at interview to keep them engaged and readily available when you are ready to fill future job openings.
Enhances candidate conversion rates by eliminating long and tedious application processes that can discourage applicants from completing the process.
Offers recruiters with unbiased interview observations. Obtain comprehensive visibility into the areas and communication patterns where interviewees face the most challenges.
What I dislike
Whilst Humanly is quite user friendly, some users may find it difficult to navigate at first, if you're not familiar with how AI works or have never used a similar software before.
The plans and pricing are not clearly outlined on the website.
Plans and Pricing
To learn more about the plans and pricing, you can book a demo OR enter your email on this page.
Final Summary
Overall, Humanly offers a great solution for those looking for a powerful yet user-friendly tool to streamline their recruitment processes, while still ensuring they find quality job candidates each time. It saves time and resources by automating tedious tasks like scheduling interviews or collecting resumes, plus its advanced technology such as AI and ML provide accurate results quickly. Though Humanly offers various plans tailored to different needs and budgets, users must be mindful when selecting a subscription service as it can be complex.
Humanly is a formidable AI-based hiring system that can assist you in locating the most suitable individual for your business.
Findem – Best AI Recruitment Tools for Attribute Sourcing
Findem is one of best AI recruitment tools and specialises in attribute sourcing, which is unique among many of its competitors. Findem is an AI-driven recruitment platform designed to help businesses of all sizes find qualified candidates faster. It uses artificial intelligence and machine learning algorithms to source, screen, and match the right talent with the right job openings. Findem helps employers save time by automating tedious manual tasks such as scheduling interviews and managing candidate data. Findem offers recruiters an extensive pool of prospects from multiple sources, including social media outlets, job postings, and career sites.
The difference between Findem and many other AI recruitment tools is that they use Attribute Sourcing in addition to Keyword Sourcing and Boolean sourcing. Attribute sourcing is a superior way of sourcing talent because only 8% of profiles have the right keywords to match a typical job search. Through Attribute sourcing you can find the other 92% of talent that others miss.
Findem offers an attribute-based search functionality, enabling users to find information about individuals similar to conducting a Google search for people. Through aggregating and triangulating data from over 100,000 sources, Findem is able to provide a comprehensive profile of a candidate. Attributes that can be searched for include, but are not limited to, 'open source contributor', 'past founder', 'recently graduated', 'holds a PhD', and 'fosters diversity within teams'. Additionally, users can search for individuals who possess qualities such as 'entrepreneurial spirit', 'alignment with company values', and 'proactive approach'.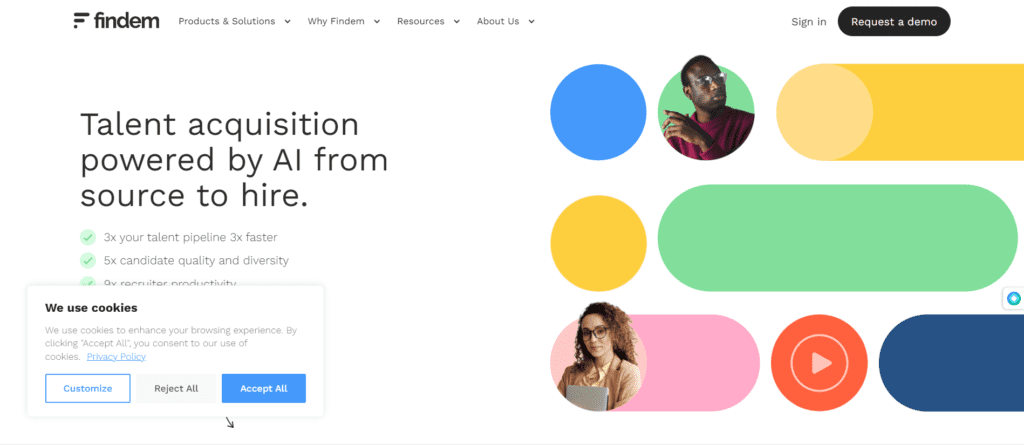 Key Features
AI-powered sourcing tools that can scan through hundreds of thousands of profiles in mere minutes using advanced natural language processing technology
Candidate screening capabilities which allow for quick assessment of each applicant's skillset via automated assessments or customized questions
Talent pipeline management to track progress throughout the entire hiring journey.
Facilitates scheduling interviews directly within its calendar feature and allows integration with existing ATSs for easy management.
Findem's recruiter chatbot enables direct communication between recruiters and applicants over text message or chatbot conversations.
What I like
Findem uses attribute sourcing, allowing you to significantly extend your search and find talent that other platforms do not find.
It saves time on recruiting activities by automating tedious tasks such as screening resumes and scheduling interviews.
Its powerful AI-based tools make it easier for recruiters to quickly identify qualified candidates who meet their specific criteria.
Its integrated applicant tracking system allows users to manage their recruitment processes efficiently while ensuring they remain compliant with applicable laws and regulations.
What I dislike
It can be difficult for new users to learn how best utilize all its features due to its complexity level compared to traditional recruiting software solutions available on the market today.
Since many companies have not yet adopted this type of technology, there may be compatibility issues when trying integrate it into existing systems used by organizations worldwide, which could potentially lead additional costs if not properly managed beforehand.
Plans and Pricing
To learn more about the plans and pricing, you can book a demo on this page.
Final Summary
Overall, Findem offers a powerful tool for individuals or organizations looking to find and evaluate potential candidates, and provides a unique and valuable approach to searching for people. It is a cutting-edge AI recruitment tool, which can assist you in swiftly and effectively sourcing the ideal talent for your business.
TurboHire – Best AI Recruitment Tools for free
TurboHire is one of best AI recruitment tools and offers both a free plan and free trial. TurboHire is an AI-based recruitment software that helps organizations to find, hire and manage qualified candidates. It provides a comprehensive suite of tools for recruiters, hiring managers and talent acquisition professionals. The platform uses advanced machine learning algorithms to source potential candidates from the web, social media platforms, job boards and more. TurboHire also offers powerful applicant tracking systems (ATS) which allow recruiters to easily track applicants throughout the recruitment process.
TurboHire offers a comprehensive suite of 10 modules designed to support end-to-end recruitment solutions, enabling businesses to establish efficient hiring processes. They place a strong emphasis on both candidate experience and recruiter productivity.
Talent Discovery – TurboHire offers a streamlined solution for consolidating sourcing activities on a singular platform, resulting in a two-fold increase in the number of qualified candidates. Additionally, the utilization of AI algorithms enables their system to accurately identify the most suitable candidates with a precision rate of 98%.
Interview Automation – TurboHire simplifies the interview scheduling process for both interviewers and candidates, eliminating the need for manual effort. Our platform automates this task, ensuring optimal timing for interviews. Furthermore, the feedback collection process is also automated, resulting in timely and efficient submission of feedback.
Candidate Engagement – TurboHire delivers an omnichannel strategy to efficiently engage candidates at a large scale, while simultaneously tracking their activities. Our platform's inbuilt Forms feature enables organizations to collect diverse data across various recruitment stages, facilitating a comprehensive approach to recruitment.
Referrals & Internal Jobs – TurboHire offers a seamless employee experience throughout the recruitment process, requiring minimal effort from recruitment teams. This is made possible through our integrated referral and IJP platform, which streamlines the entire process.
Applicant Tracking – TurboHire offers a self-serve ATS (Applicant Tracking System) that is highly configurable by recruitment teams, allowing for tailored workflows that can be optimized over time.
Agency Management – TurboHire offers an integrated agency management portal that facilitates seamless collaboration with your partners to submit candidates, monitor their progress, and oversee compliance management.
Requisition & Approvals – TurboHire offers a hiring manager login that streamlines the requisition creation process, facilitates approvals, and fosters effective collaboration with recruiters during candidate screening.
Offer & Onboarding – TurboHire places the candidate at the forefront after the offer process and enables recruitment teams to obtain the necessary approvals.
Reports & Dashboard – TurboHire is equipped with a robust reporting tool that has been specifically designed to cater to the needs of recruitment. This reporting tool is capable of generating comprehensive reports that offer valuable insights into various recruitment metrics and enable recruiters to make informed decisions. With TurboHire, recruitment teams can leverage the power of data analytics to optimize their recruitment strategies, enhance their hiring processes, and ultimately achieve their talent acquisition goals.
Admin & Set-Up – TurboHire's self-serve portal empowers administrators with unparalleled flexibility and control over user management, permissions, deployment, and other critical aspects of the platform.
Watch the video below to learn about TurboHire's Intelligent Hiring Features.
Key Features
1-click job marketing to job boards for inbound sourcing, as well as a Chrome extension for outbound sourcing.
AI matching to effectively pair candidates with suitable job opportunities.
An auto-scheduler, 1-way interviews, customizable scorecards, bulk email campaigns, email and click tracking, customizable data collection forms, WhatsApp and SMS integration, and an easy set-up process.
White-labeling capabilities, status tracking, configurable workflows, mandatory actions, activity tracking, duplicate detection, permissions control, and approval triggers.
The platform facilitates candidate calibration, interview approval, salary auto-calculation, signature and remarks, a custom report generator, and unlimited dashboards with leadership access.
Training guides and customizable roles and permissions, making it easy for businesses to deploy TurboHire in multiple geographies.
Utilizing AI-driven algorithms, the platform sources potential candidates from the web, social media platforms, job boards and more
Offers powerful applicant tracking systems (ATS) for easy monitoring throughout the recruitment process.
Its automated candidate sourcing services include AI chatbots which engage with job seekers in real time
AI technology for optimizing recruitment data and customizable reporting dashboards.
All these features give companies a leg up when it comes to quickly identifying qualified candidates who are most suitable for their roles – while ensuring an unparalleled experience at every stage of the process.
What I like
TurboHire's ability to save time by automating tedious tasks such as screening resumes or scheduling interviews – allowing recruiters to focus on finding high quality candidates instead.
It enables companies to get access to qualified talent quickly through its extensive database of potential hires sourced from across different channels including LinkedIn profiles or public databases like Indeed or Glassdoor.
Its intuitive design allows even those with minimal technical experience to take advantage of its features without difficulty.
There is a Free Plan. There is also a free trial with no credit card required.
You can cancel anytime.
Plans and Pricing
Final Summary
TurboHire is a powerful AI recruitment tool that helps employers find the right talent quickly and efficiently.
I would definitely recommend giving TurboHire a shot if you're looking for an efficient yet cost effective solution when it comes to choosing the right recruiting tool set. Given its proven record of consistent results over a lengthy period, it would be prudent to consider giving TurboHire a try.
Manatal – Best AI Recruitment Tools for Value for Money
Manatal is one of best AI recruitment tools and it provides the best value for money. Manatal is an AI-driven recruitment platform designed to help hiring teams and recruiters find qualified candidates quickly and efficiently. It offers a range of features such as automated candidate sourcing, applicant tracking systems, scheduling interviews, AI chatbots for screening applicants, and more. Manatal's goal is to make the recruitment process easier by automating mundane tasks so that recruiters can focus on building relationships with potential candidates.
Learn more about Manatal and its features in the video below:
Key Features
By leveraging the above tools and features, recruiters can focus on building relationships with potential candidates while mundane tasks are handled automatically. Thus allowing them to stay ahead of the curve and achieve success in their hiring endeavours.
What I like
It provides excellent value for money. Its plans are cheaper than many of its competitors whilst providing the same features and level of service.
It saves time by automating mundane tasks associated with recruiting processes like sifting through resumes or scheduling interviews which would otherwise be done manually by the recruiter or hiring manager.
Its analytics capabilities permit users to observe their recruiting performance metrics in real-time and detect potential areas of improvement for enhanced recruitment outcomes.
Manatal offers a unified platform that facilitates efficient cooperation between recruiters and hiring personnel when making decisions regarding prospective employees.
What I dislike
It requires a certain level of technical knowledge in order for users to get the most out of its features
Since this technology is still relatively new, there may be bugs or glitches present during use which could lead to errors occurring while conducting searches or other activities related to recruiting processes on the platform itself.
Plans and Pricing
Manatal is an AI-powered recruitment tool that helps you to source, assess and hire the best talent.
Fetcher – best for those who don't have technical expertise
Fetcher is one of best AI recruitment tools. Fetcher leverages AI-driven capabilities such as natural language processing, machine learning and big data to source candidate profiles from multiple sources for employers to efficiently identify top talent. Fetcher leverages a mix of NLP, ML and large datasets to evaluate applicant info from multiple sources such as LinkedIn, Indeed and Stack Overflow. This allows employers to quickly identify top talent who match their criteria.
Fetcher's intuitive interface makes it easy to search for qualified candidates based on skills, experience level, location and other factors. The platform also provides powerful analytics tools that allow recruiters to track progress over time and compare different groups of applicants.
Watch the video below to hear why their customers like Fetcher:
Key Features
What I like
Its user-friendly interface – Fetcher is a great choice for those who don't have technical expertise or coding experience. Simply enter the desired criteria into its search engine and it'll do all the heavy lifting.
Once the initial setup is complete, most users should find navigating Fetcher's dashboard relatively straightforward and intuitive even if they've never used similar software before.
Since all resumes are screened by AI, rather than humans there is less risk of bias (including unconscious bias) creeping into recruitment decisions
All applicant information is stored securely in one place, so it's easy for recruiters keep track of progress throughout the hiring process – something which can often be difficult when dealing with large numbers of applicants manually.
Fetcher can automatically screen resumes using artificial intelligence (AI). This eliminates manual screening processes by assessing each resume against predetermined criteria such as keywords or phrases related to the job opening.
Fetcher can also generate custom questions tailored specifically for each applicant which can be used in interviews or assessments.
The platform offers automated interview scheduling so recruiters don't have to manually book meetings with every candidate they want to talk with.
What I dislike
Certain features are lacking compared with more established recruiting platforms such as Linkedin Recruiter or Jobvite – although these services tend come at a higher cost.
Plans and Pricing
Fetcher offer customized pricing packages that are based on the specific needs of your team, including the number of seats required and the quantity of vetted candidate leads they source and send to your email in batches. Their pricing is tailored to align with your unique hiring initiatives. They provide a personalized quote that meets your specific recruiting needs.
All Fetcher packages include:
1. Automated sourcing that merges machine intelligence with human insights.
2. Access to a Chrome extension that allows for manual candidate sourcing and contact information capture.
3. Unlimited outbound emails to candidates.
4. Personalized email templates created by anyone within your organization.
5. Comprehensive top-of-the-funnel analytics, offering insights into your performance from outreach, team, and diversity perspectives.
6. Integration with email and ATS.
7. Onboarding and a dedicated Customer Success Manager, who works with you to guarantee a productive and positive experience."
To receive a personalized quote and tailored package that meets your specific recruiting needs, book a call now:
Final Summary
With Fetcher, you can automate your entire recruiting process from sourcing candidates to scheduling interviews with ease. Fetcher's comprehensive suite of features make it well worth considering if you're looking for an effective way to streamline your recruitment process without breaking the budget.
Conclusion – Best AI Recruitment Tools
In conclusion, AI recruitment tools can be a great way to streamline the hiring process and save time. AI recruitment tools provide features like auto-screening of resumes, job matching algorithms, and analytics in real time to help recruiters quickly find suitable applicants. Selecting the best AI recruitment tool that fits one's needs can be a challenging task with so many options available. This article has provided a closer look at the 9 best AI recruitment tools available, helping you pick out the one that fits your organization's needs.
All nine of these AI recruitment tools possess their own distinct advantages that can aid you in finding the ideal applicant for your job openings quickly and with ease. Before settling on a specific AI recruitment tool, it is prudent to consider plans and pricing and weigh up the pros and cons of each one as discussed in my blog above. I have done careful, comprehensive research into each tool's pros and cons along with its key features and reviews for you, so that you are able to make an informed decision when choosing the best AI recruitment tool for your business or organisation.
Take control of your recruitment and hiring process today. Utilize the best AI recruitment tools to find the right candidates, navigate the application process successfully, save time and achieve success in your business.
Please follow and like us: