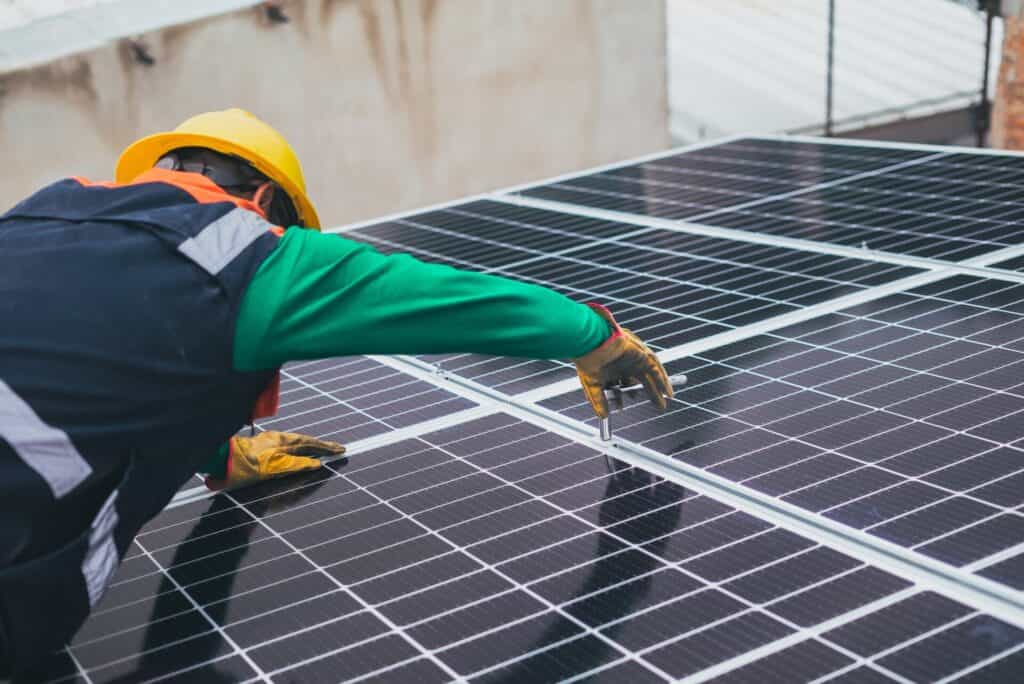 Median annual salary: $49,700
Is Solar Photovoltaic Installers one of the fastest growing jobs?
Solar Photovoltaic Installers (also known as PV installers) is one of my top picks for best future careers, because currently it is the third fastest growing job in the US and in many places around the world. The projected growth is outstanding. According to the U.S. Bureau of Labor Statistics employment of Solar Photovoltaic Installers is projected to grow 52.1 percent from 2020 to 2030.
What is the Salary of Solar Photovoltaic Installers (PV Installers)?
The median annual wage for Solar Photovoltaic Installers is $49,700. Salaries range from $33,000 to more than $69,000, based on experience and training.
What do Solar Photovoltaic Installers do?
Solar photovoltaic (PV) installers assemble, set up, install and maintain rooftop or solar photovoltaic (PV) systems that convert sunlight into energy.
Solar photovoltaic Installer's duties include, but are not limited to the following:
Planning solar photovoltaic (PV) system configurations based on the circumstances at the site and the customers' needs.
Measuring, cutting, assembling and bolting structural framing for solar PV panels
Installing solar modules, panels, and support structures
Connecting solar photovoltaic (PV) panels to the electrical system
Applying weather sealant
Activating and testing PV systems
Performing regular PV system maintenance
What is the Solar Photovoltaic Installer's working environment and conditions?
If you are considering a career as a Solar Photovoltaic Installer, you should be comfortable with the following working environment and conditions:
Working outdoors most of the time
Working on rooftops, so it is important to not have a fear of heights or working on roofs.
Occasionally working in attics and crawl spaces to connect panels to the electrical grid.
Working at ground level if building solar farms
Working in teams, which may include roofers and electricians
Climbing ladders
How to become a Solar Photovoltaic Installer?
There are many routes into a career as a solar photovoltaic (PV) installer. PV installers usually need at least a high school diploma to start with. One route into this career is through courses at local community colleges or technical schools to learn about solar panel installation. There are basic courses that last a few days and more extensive courses (that focus on system design and PV installation) which last several months.
People with construction experience often enter the occupation by taking online training courses. Those with experience as an electrician, roofer, carpenter, laborer or other construction trades, who want to transition into this field may have shorter training time than those who want to enter this career with no construction experience.
Other people learn how to become PV installers by working with experienced installers. This may be through non formalized and non-accredited training or through apprenticeships. On the job training may last between 1 month and 1 year. Electrician and roofing apprentices may complete photovoltaic specific training modules through apprenticeships. During training, Solar Photovoltaic Installers learn about topics such as PV system installation techniques, safety, tools, system design and more.
Military veterans can learn the trade through the Solar Ready Vets program, which is funded by the U.S Department of Energy.
Certification is not required for employment in every state, but certification can enhance your job prospects, even where it is not required as certification demonstrates competency in solar panel installation. The Electronics Technicians Association, International (ETA) and the North American Board of Certified Energy Practitioners offer certification for Solar Photovoltaic Installers. Some states require PV installers to be licensed, so it is recommended that you contact your state's licensing board for more information.
Further, Solar PV system manufacturers often provide training on their products, which may include a system overview and proper installation techniques for their products.
What is the Career Progression for Solar Photovoltaic Installers (PV Installers)?
After gaining occupational experience, Solar Photovoltaic Installers can be promoted into project supervisor or project manager roles. Some PV installers also move into sales roles as they are able to apply their knowledge and experience of solar photovoltaic installation and solar PV panels to sales as they explain to customers the benefits. Some even choose to start their own PV installation business.
Solar Photovoltaic Installer is an excellent career choice for the future, because it is currently the third fastest growing career, so it is an excellent career to consider for 2022 and for many years into the future. Based on my professional expertise in careers, employment, learning and skills and extraction of solid research from the U.S. Bureau of Labor Statistics I have been able to extract and summarize key information for you to help you to learn more about a career as a Solar Photovoltaic Installer. I hope this blog helped you to discover and explore PV installer as a potential career choice. To learn more and see my recommendations for Best Future Careers, read my blog article now!
Please follow and like us: